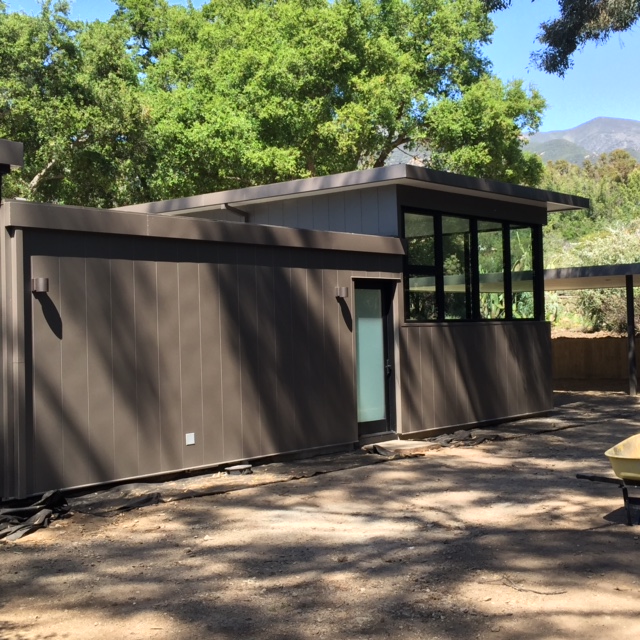 Grand
This 1959 house by Rodney Walker is one of seven masterworks built in Ojai after the architect relocated here in 1955, following a rich career in Los Angeles which included working with Rudolf Schindler and his own three Case Study Houses, #16, 17 and 18. In 1958 he began work on both this Grand Avenue house and his own hill top aerie on El Rancho which has now been fully restored by the L.A. designer Barbara Barry.
We were challenged by a severely compromised building with several disastrous additions and a number of rock flood walls that encircled the eastern end of the house. The original carport had been relocated and the entry court consumed in a remodeling frenzy that made the front door largely inaccessible from the parking court. A dangerously deteriorated redwood deck had long ago been added to the western end of the building and the entire house had been re-clad in narrow vertical redwood pickets over the original painted T-1-11 plywood.
The lush gardens had been haphazardly planted over the years and a pool built in the mid 1970's. Site drainage, which had prompted the flood walls had never been adequately addressed. A cabin-style guest house had been added after the original, Rodney Walker designed building had been moved to Thacher Road following the original owners' divorce a year after the project's completion.
The client's program expanded over the course of the project to include a new kitchen and up-grades to the existing bathrooms. We attempted to thread the needle stylistically, retaining much of the redwood siding but cladding the new and re-modeled areas in 12" wide vertical metal panels. A new steel framed carport was erected to the east of the house creating generous access to the southern entry courtyard.
Two key elements of the project, the new pool and the guest house with a single garage, are yet to be built.
Credits:
Garden Design, Sarah Munster